To improve the safeguards that protect sensitive financial data from cyber threats, Multi-factor Authentication (MFA), also known as two-factor authentication, will be added to the Bursar Account Suite, commonly known as TouchNet, on May 18.
Many financial institutions use Multi-factor Authentication and requires more than one type of authentication for you to access your account information. When MFA is enabled, account holders receive a notification on their registered device. Requiring a response on a device you own helps prevent others from accessing your account, even if they have your ID and password. Users must register their Multi-factor device. Details for registering your device can be found at Fast Info 7456.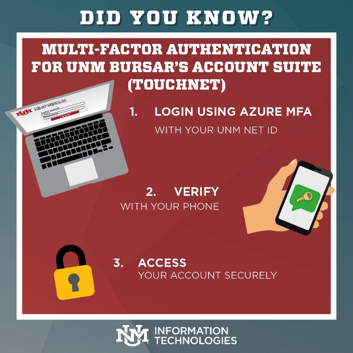 IT will be adding MFA on May 18, 2020. After that date, you will have the following options to pay your bill:
Login via myUNM.edu using your NetID and password. The first time you access the Bursar Account Suite after Multi-Factor Authentication is added, you will be prompted to register your cell or landline phone for authentication purposes. When you go to pay your bill, a notification will be sent to your registered device. Payment via this option will require you have a registered device.
Pay in person with cash or cash equivalents including cashier's check, money order, or personal check. Credit cards are not accepted at this location. The UNM Cashier's Department is currently open Tuesdays and Thursdays, 8 a.m. to 12 p.m. The Cashier's Department is located in the John and June Perovich Business Center, Suite 1100, on the southeast corner of Lomas and University.
Mail a cashier's check, money order, or personal check to the UNM Bursar's Office:
UNM Bursar's Office
MSC01 1310
1 University of New Mexico
Albuquerque, NM 87131-0001
For any questions about your bill or payments, contact the Bursar's Office at 277-5363. For more information, visit Bursar's information.
For assistance with setting up MFA, changing your registered device, logging in to TouchNet or if you do not receive a notification, contact the IT Help Desk at 277-5757. Hours of operation are Monday – Friday, 7:30 a.m. to 5 p.m.