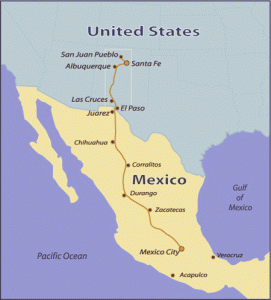 Tessa Cordova, a doctoral candidate in American Studies, presents, "Recordando Nuestra Gente: Ritual Memorialization Along the Camino Real de Tierra Adentro," on Tuesday, Feb. 21 from 12:30 – 1:30 p.m. at El Centro de la Raza.
Cordova's dissertation provides a contemporary study of the memorialization and ritual practices that serve as historical markers of community cultural mapping along the region of the Camino Real de Tierra Adentro. The dissertation features two explicit case studies involving separate tragic stories of death of two women prior to consummating their marriage and the memorialization that intersects their cultural identities from distinct communities - one from the state of Chihuahua, Mexico, who died in 1930; and the other from El Rito, New Mexico, who died in 1997.
By juxtaposing their stories she sought to interconnect the lives and experiences of Chicana/o, Hispana/o, and Mexicana/o people using the Camino Real to situate ritual and traditional practices as evident of an ongoing relationship with a historical connection of the peoples in Mexico and New Mexico.
The Raza Graduate Student Association Research Showcase highlights research from Latina/o graduate and professional students and encourages Latina/o undergraduate students to consider options of graduate and professional education. RGSA appreciates the support of El Centro de la Raza and the Graduate Resource Center to help sponsor the RGSA Research Showcases.
Contact
RGSA
for more information.