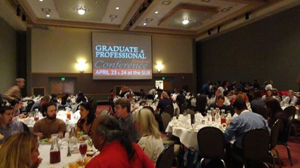 Do you want to share your passion and your research?  Are you searching for others who are interested in the same ideas? Do you need practice presenting or need feedback on your ideas?
The Graduate Resource Center (GRC) is seeking submissions for the 2013 New Mexico Shared Knowledge Conference on April 16-18.  The goal of the New Mexico Shared Knowledge Conference is to connect the wider New Mexico community to academic projects occurring on New Mexico campuses.
The GRC is seeking proposals in the areas of ecology and landscape, education and training, health and well being, human rights and immigration, poverty and economy, and science and technology.  Interested presenters can submit proposals of different formats including:


Recitals and creative performances


Films


Art/models/posters


Workshops


Roundtable discussions


Paper presentations


Ryan Brown, a master's student who is helping to organize the conference says they are seeking as many formats as possible that deal with New Mexico topics.   "There is a lot of work being done across the state that isn't noticed or recognized by the general community," he says.  "We want everyone, across all disciplines, to have an opportunity to share their work in the way that makes the most sense to them."
Details about submitting proposals can be found
here
.  Proposals for workshop topics and film submissions are due March 1, 2013.  Proposals for creative performances and proposals for posters, art and models are all due Feb. 22. That is also the deadline for proposals for individual and panel presentations.
Brown says the conference, which will be held over three days in the Student Union Building is a good place for people who have common interests to get together and shares those interests.  Conference organizers are hoping as many students and faculty as possible will participate in the conference.  Anyone with questions can call the GRC at (505) 277-1407 or email
unmgrc@unm.edu